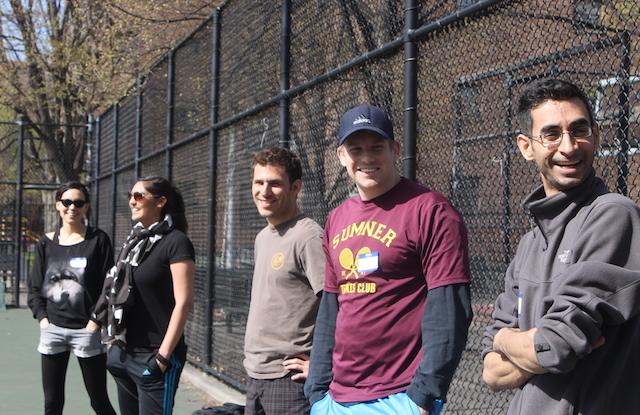 After a successful series of training workshops, our volunteers are officially ready to bring tennis to the kids of Bed-Stuy! Comprised of approximately 90 individuals of all ages, backgrounds and professions, our 2015 volunteer base is the largest in KCTL's history.
Director of Programming Meredith Brown led two large group sessions on April 25 and May 2. Both meetings enjoyed high attendance rates, welcomed many new faces, and shined with enthusiasm.
April 25 at Marcy
The April 25 session was held at Marcy. Given the relatively pleasant weather and the large size of our group, we deviated from our initial plan to meet in a classroom at Marcy Library. Instead, volunteers absorbed the 2015 tennis curriculum in a much roomier setting: a big, seated circle on the Marcy tennis court.
Surrounded by several dozen volunteers, Meredith outlined the organization's history, our goals, typical class structure, and expectations for volunteers. The outdoor space was especially useful for Lafayette Gardens Site Coordinator Candice's simulation of an off-court activity and discussion. Following the curriculum overview and the mock off-court session, volunteers divided into small groups to practice tennis drills and games. The session commenced with Breakout to familiarize volunteers with our typical end-of-class game.
View photos from April 25 training on Facebook.
May 2 at Asphalt Green
On May 2, volunteer training was held at Asphalt Green Battery Park City, an athletic facility in lower Manhattan. Though a markedly different space than the Marcy court, this training session was equally effective and engaging.
Here, volunteers learned about KCTL in a traditional classroom setting complete with a presentation screen to visually reinforce Meredith's speech. Again, volunteers participated in a demonstration of an off-court discussion—but the relatively smaller space didn't prevent them from having fun! After a short break, training resumed downstairs on an indoor basketball-court-turned-tennis-court with a portable tennis net. Meredith led a series of drills with the entire group, which included each volunteer's opportunity to practice feeding balls with lots of energy. Again, training wrapped up with a few rounds of Breakout.
View photos from May 2 training on Facebook.
Volunteer training didn't end on May 2, though, as was originally planned. Following unexpectedly high volunteer interest, we added a medium-sized group session this past Saturday, May 16. We also have a few smaller meetings planned throughout the final days before the season's start. Volunteers still interested in participating with KCTL who have not yet registered for a training session can contact Meredith Brown to arrange an individual meeting.
Thank you so much to everyone who's come out so far! We couldn't do this without you.