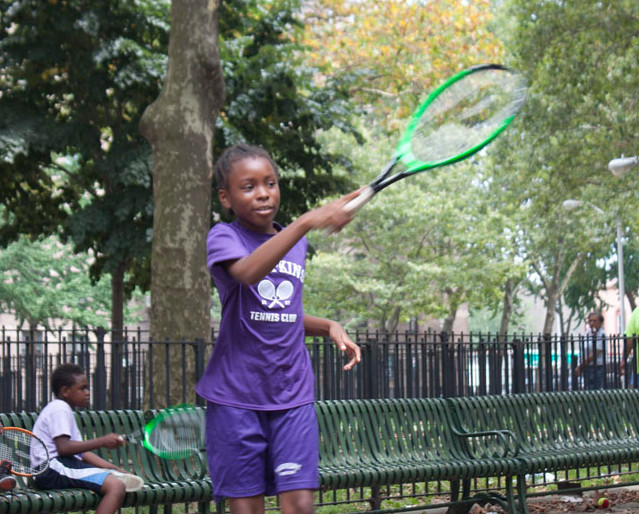 After record heat all week, we got a little break for Saturday's class. At Sumner site, volunteers worked one-on-one with the kids and started to show them how to serve. Marcy and Lafayette Gardens site continue to practice rallying and service.
Even though the heat was down, the kids at Tompkins site made the volunteers work up a sweat as we played "Beat the Pro" on all three courts, our youth athletes rotating to each court after each point (win or loss) to take on a different volunteer, the Pro. It was impressive to watch the older kids rally with the volunteers 14, 15, 16 times back and forth before an error or a winning shot. Even the younger kids were able to keep the ball in play for a few hits. It really made me realize the power of the fundamentals. Power, accuracy, trick shots like topspin and slicing will come with time, but having a solid forehand and backhand means that these kids can play real legitimate tennis and it's awesome! Not every player beat the pro or won ten points, but they all played excellent tennis.
Here are a few photos from Tompkins class. To view more, visit the KCTL Facebook page.
Don't forget: Our fundraiser is happening soon on August 15th! If you're in NYC, come celebrate with KCTL and learn more about and support this amazing program. If you're too far away to join, please consider making a donation to the program. To buy tickets or make a donation, visit our EventBrite page.