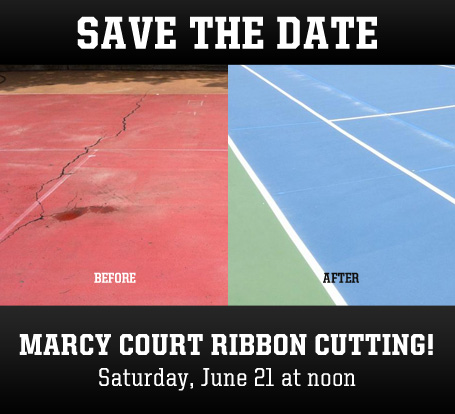 Kings County Tennis League to Cut Ribbon on Newly Renovated Marcy Playground Tennis Court
Councilmember Robert Cornegy to join re-opening of popular Bed-Stuy tennis court
BROOKLYN – The Kings County Tennis League (KCTL), a non-profit mentorship program that builds community through tennis, will re-open the Marcy Playground tennis court after an extensive renovation and beautification project. Councilmember Robert Cornegy will join KCTL, youth athletes and volunteers at the ribbon-cutting ceremony.
WHAT: Ribbon-Cutting Re-Opening Ceremony for Marcy Playground Tennis Court. Press conference including Q&A.
WHO: KCTL board members, mentor volunteers, community leaders, including Councilmember Robert Cornegy, youth athletes and their families.
WHEN: Saturday, June 21, 2014
12:00 pm - Reception
12:15 pm - Comments by KCTL board, Councilmember Cornegy, youth athletes
12:30 pm - Ribbon Cutting
12:35 pm - Q&A
WHERE: Marcy Playground Tennis Court
735 Myrtle Avenue
Brooklyn, NY
About KCTL
With the mission of bringing tennis to the kids of Brooklyn, KCTL offers free, two-hour tennis lessons with mentors on Saturdays from May through October for children, ages five to 15, who live in low-income, public housing projects. Formed in 2010 as the Marcy Tennis Club, we've since expanded to four different housing locations (Marcy, Tompkins, Lafayette Gardens and Sumner Houses) and now serve more than 120 youths. KCTL, and our roster of over 45 dedicated volunteers, firmly believe that tennis is an effective means to provide mentorship and build community. To join, volunteer, donate or get more information, go to http://www.kingscountytennisleague.org.
For more information, contact:
Michael McCasland, KCTL Founder and President
michael@kingscountytennisleague.org, 202-359-9534